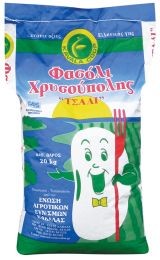 For nearly 100 years, the beans of Chrisoupoli have been cultivated in the Delta of Nestos river, standing out for their sweet taste and intense white colour, as well as because they are easily cooked as a result of the local soil and climate conditions.
"Tsali" (also called plaké or megalospermo) and "medium-sized" beans are the two main varieties produced.
The renowned medium-sized beans (Northern type) are cultivated in the lowlands of Chrisoupoli (Kavala). They are particularly easy to cook, tasty and are rigorously selected for their method of production.
They are ideal for the preparation of the traditional Greek "fasolada" (soup with beans).
"Plaké" or "tsalia" are large-germ (megalosperma), thin-skinned beans of white colour. They have a special taste, are easy to cook and are usually served –like medium-sized beans– as "fasolada" (soup).